#1 Laboratory of Choice

Multiple surveys were conducted and the results are in. Learn what clients, and the industry as a whole, are saying about Eurofins Lancaster Laboratories.
For more than 10 years, we have conducted annual client feedback surveys to ask our clients how we are doing. We also regularly seek input from the industry as a whole through third-party surveys. We find the feedback from both surveys to be very valuable and use it to guide changes in our laboratories, quality control/assurance procedures and project management processes.
What are our clients saying?
When considering responsiveness, communication, performance and deliverables, 95% of our clients said we meet or exceed expectations. And 93% indicated they would recommend us to a friend or colleague.
What does the industry say?
Third party surveys were conducted by three leading industry publications to evaluate how Eurofins Lancaster Labs is perceived by the industry and how we measure up against 11 of our toughest competitors in the marketplace.
#1 Laboratory of Choice
The combined results of these surveys revealed that Eurofins Lancaster Laboratories ranked # 1 for technical expertise, meeting project deadlines, value of service and most preferred laboratory.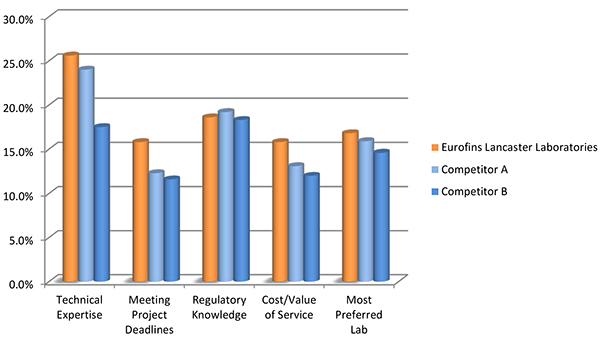 CRO Leadership Award Winner
Eurofins has earned the CRO Award four years in a row. In 2016, Eurofins ranked in the top 10% of companies being evaluated in all five categories: Quality, Reliability, Expertise, Compatibility and Capabilities.

What are clients REALLY saying about Eurofins Lancaster Laboratories?
"Customer service is prompt. Results are timely, complete and accurate."
- Biopharmaceutical Client
"The attention to detail in the analytical reports is excellent. The Project Manager keeps us informed of any delays and lets us know immediately when out of specification data is obtained, as well as providing updates throughout the investigation."
- Pharmaceutical Client
"Excellent communication and responsiveness from project management. Highly qualified technical team that makes themselves available for technical questions."
- Pharmaceutical Client
"All testing was done in a timely manner. Communication was excellent!"
- Biopharmaceutical Client
"Very thorough with explanations and expectations for a project. Excellent communication and impressive thought processes for carrying out a project. Lancaster sets the bar for outsourced work."
- Pharmaceutical Client
While these are the words of Eurofins Lancaster Laboratories' customers, confidentiality agreements protect our customers' anonymity.