Characterization for Pharmaceutical Products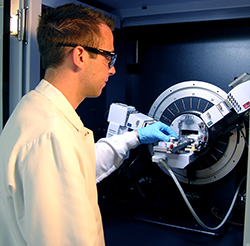 Characterization testing is used to gain an understanding of the physical and chemical properties of pharmaceutical materials. During process and drug development, these properties can have an impact on the product's performance, ability to be processed, stability and appearance.
Eurofins Lancaster Laboratories provides cGMP compliant characterization testing for pharmaceutical products to support formulation or process development, quality control, cGMP lot release testing and investigational manufacturing troubleshooting. We have extensive experience with an array of product types from raw materials to active pharmaceutical ingredients and can accommodate virtually any product type.
Why Choose Eurofins Lancaster Laboratories?
Our extensive experience with a variety of techniques and sample types lends the ability to tailor the testing to meet specific client requirements at one testing location.
We have developed a host of in-house general methods for a variety of techniques to eliminate the need to develop a method from scratch. We can also follow compendial or client-provided methods, per cGMP, as well as develop new methods when no current method exists.
Sample Types
We have experience with a variety of sample types, including:
Raw materials
Finished products
Development materials
Intermediate in-process materials
Mixtures
Active pharmaceutical ingredients
Stability study samples
Unknowns for identification or confirmation
Characterization Testing Capabilities
Carbon, Hydrogen & Nitrogen Analysis (CHN Elemental Analysis)
Determines the mass fraction of Carbon, Hydrogen and Nitrogen content
Rapid analysis time
Requires very little sample – less than 10 mg
Differential Scanning Calorimetry (DSC)
Characterizes via thermal properties
Measures heat flow into and out of the sample
Phase transition determination
Thermogravimetric Analysis (TGA)
Measures the change in sample mass as a function of temperature and/or time
Degradation - loss in oxidation/reduction
Moisture/Solvent loss [LOD on micro scale]
Fourier Transform Infrared & Near-Infrared Absorption Spectroscopy (IR [FTIR, NIR])
Fingerprinting identification to known scan
Functional group identification within the molecular structure
Simple preparations non-destructive
Ultraviolet-Visible Absorption Spectroscopy (UV/VIS)
Identification confirmation
Quantitation
Detection of known impurities
X-ray Powder Diffraction (XRPD)
Identification of crystalline or semicrystalline material fingerprinted to a known scan
Degree of crystallinity
Phase analysis
Impurities detection
Metals testing
Determine the non-organic elemental mass fraction content
Inorganic impurities testing
ICP-OES, ICP-MS
Mass Spectrometry (MS)
Measures mass of parent compound or daughter ions
Accurate mass and fragmentation MS capabilities
Confirms molecular weight (identification)
Evaluation of unknown impurities
Contact Us
Request more information to start working with us today. Or call one of our Business Development Specialists at 717-656-2300.