Eurofins SFA Laboratories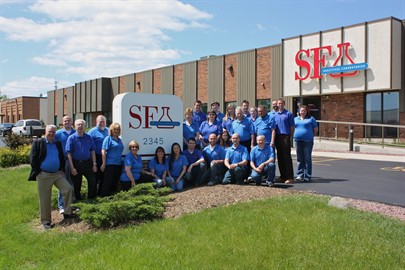 Founded in 1900, and evolving through the years, Eurofins SFA is a member of a world-wide group of laboratories which can  serve testing needs for over 2,000 clients in North America and now world wide. Eurofins S-F Analytical Labs is one of Wisconsin's largest multi-disciplined labs, performing Food, Specialty/Investigative, and Environmental Analyses.
Eurofins SFA is often known as the "can do" laboratory, listening to client's problems and seeking ways to help them find solutions and achieve results. This is done with proper methods while maintaining integrity in reporting with confidentiality to clients.
Our multiple testing disciplines serve the following types of clients, with cross service often performed by more than one department, as it fits the needs/expectations of each client, and their required turnaround times:
Services: Microbiology, Nutrition, Special Investigative Analysis, Environmental 
Our qualified, senior scientists have been with Eurofins SFA for an average of over 20 years, with some having over 30 years experience, and all are mentoring our younger scientists who will serve future testing needs of clients during the next 100 years. Click here to learn about the history of SFA Labs. 
Eurofins SFA Labs is certified for operation through various Wisconsin and Federal agencies.  All departments participate in a proficiency testing program that includes graded results through the certifying agencies as well as internal results that are graded by the Quality Assurance department. For copies of our current certifications, please pick from the list below for your needs: