Infrared Analysis
The QTA System is a patented analytical service that enables you to quickly and easily test the quality of your products and materials, reliably and accurately. QTA handles all the technical development, configuration, management and monitoring behind the scenes, enabling accurate quality testing by non-technical personnel, and freeing you up to manage your business. With high quality data, obtained in less than two minutes, you can measurably increase the value of your finished product, improve your process yields, and reduce waste and rework, and improve profitability. 
The QTA system includes an infrared spectrometer and a user interface that connects you to all the technical expertise and systems to provide highly accurate quality data on your products, raw materials, byproducts and even in-process streams. 
Here's How It Works
A spectrometer is placed at your site. Using a computer connected both to the spectrometer and to the internet, you log on to the QTA website, using a secure user name and password. Upon log in, you have access to a library of calibration algorithms specific to your materials. You enter a sample ID on your computer, place the sample on the spectrometer and press analyze. The spectrometer collects a light spectra, digitizes it and sends it over the internet to the QTA central processor. The central processor uses existing algorithms to interpret the light spectra, then sends a result back to your computer. The entire process takes less than 2 minutes, is non-destructive and usually requires no sample preparation.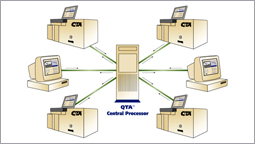 The QTA system is offered on a subscription basis and does not require any capital investment. 
The QTA System utilizes Fourier Transform infrared spectroscopy to provide analyses of the broadest range of materials, components and properties. QTA's patented Chingometrics™ data treatment brings greater accuracy and consistency to the analyses; and the QTA Network for centralized calibrations ensures that your systems are always up to date, at peak performance and monitored, bringing you a 24 x 7 technical resource. 
Capabilities
The QTA System is used in a wide variety of industries. Some customers may use calibrations from our existing library of calibrations following validation; for other customers, the development of custom calibrations is required. 
In providing its service to you, the QTA business relies on mid-infrared spectrometers and near infrared spectrometers with different kind of the sampling devices according to customer's applications. 
QTA® On-Demand now offers testing on a per sample basis
Demonstration Videos
Technical Sheets